DWC Pipe Double Wall Corrugated (Drainage Use)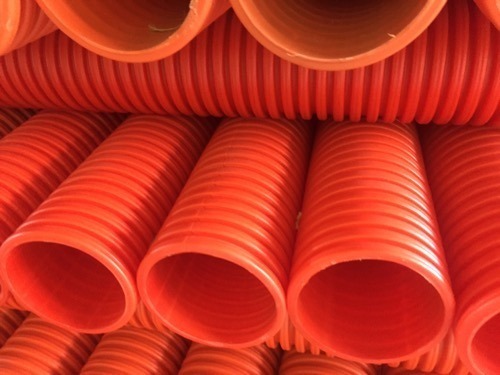 DWC Pipe Double Wall Corrugated (Drainage Use)
Product Description
Key Features :- Stronger than GI, RCC or PVC- solid wall pipes, Long life span, Easy to transport, handle and install due to light weight, Low installation Cost, Excellent Impact Strength, Excellent chemical, corrosion and abrasion resistance, Flame retardant, Leak Proof, UV Resistantt, Made from Anti-Rodent Material, Environment Friendly, Ability to withstand heavy external loads when properly buried, Easy jointing and installation, Flexible enough to adjust to obstacles during installation.
Product Description :– DUTRON DWC Pipes Dutron Double Wall Corrugated (DWC) Pipe manufactured from HDPE is an ideal conduit system for protecting electrical and telecom cables. The outer layer having corrugation and inner layer with plain and smooth surface gives excellent mechanical and electrical properties for cable ducting compared to G.I., RCC and PVC. Dutron DWC pipes are manufactured as per IS: 16205 (part 24):2017.
Composition:-Â Manufactured from HDPE having outer layer corrugated and inner layer with plain and smooth.
For price click below linkÂ